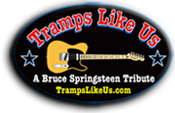 Tramps Like Us, who Bruce Springsteen's former producer and manager Mike Appel has called: "The GREATEST Bruce Springsteen Tribute Band In The LAND!" is set to re-create yet another legendary and historic Bruce Springsteen concert in their continuing series of classic Springsteen concert re-creations...
If you missed what is now considered a classic legendary Springsteen concert from years past and wondered what it would be like to have been there in person, well you are in luck...
Tramps Like Us, is the FIRST and ONLY band ever to re-create Springsteen concerts in their entirety, receiving high praise from fans and media outlets alike, as well as selling out venues across the tri-state area in the process. Currently with 8 historic concerts in their repertoire and more on the way, take a trip to the past with Tramps Like Us.
---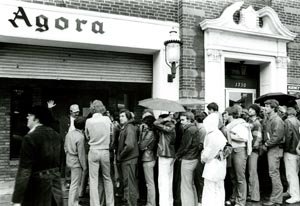 It was August 9, 1978, in Cleveland, Ohio...
The air was literally electric – muggy and rainy outside, with summer lightning crackling, and fans jamming the Agora entrance almost two hours before showtime. Because it was a general admission show, some had slept on the sidewalk the night before in hopes of landing a front row spot for the show.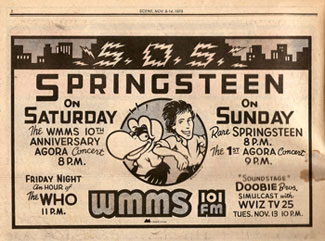 They whistled, they clapped, and chanted in the background as Denny Sanders signed on the broadcast to welcome the radio listeners. Kid Leo did the on-stage introduction, "I have the duty and the pleasure of welcoming, ladies and gentlemen, the main event. Round for round, pound for pound, there ain't no finer band around – Bruce Springsteen and the E Street Band!"

The show went on for twenty-one songs in two sets, and an encore ending in "Raise Your Hand." "I'd like to thank Cleveland for supporting us," Springsteen said. "When we came here, we got some respect." The broadcast ended past midnight, after more than four hours. Leo read the credits but fully expected Springsteen would do one more encore. Springsteen, nearly spent, returned one more time for a surprise encore of "Twist and Shout" for the Agora crowd. It wasn't carried live, though we broadcast it later.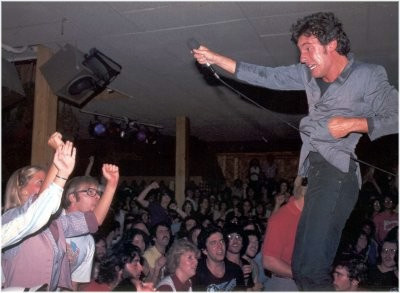 The broadcast was flawless, which might explain why Columbia Records never released it as an album. The radio audience was estimated at three million, and the show was one of Springsteen's most-recorded, most-bootlegged, and most downloaded.
E Street Band drummer Max Weinberg once called it the best show the E Street Band ever did.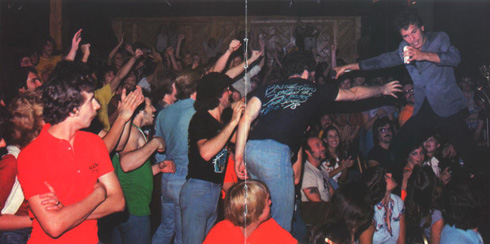 ---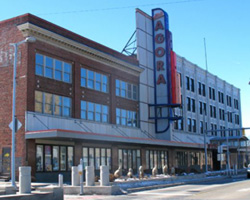 Former WMMS program director John Gorman has a great remembrance of the show...
"Though there were many WMMS Tenth Anniversary concerts and events, the one that will always be first and foremost is Bruce Springsteen's live concert broadcast at the Agora on Wednesday, August 9, 1978. For many Springsteen aficionados that show stands as Bruce and the Band's all-time best live performance. I concur.'
---
About Tramps Like Us: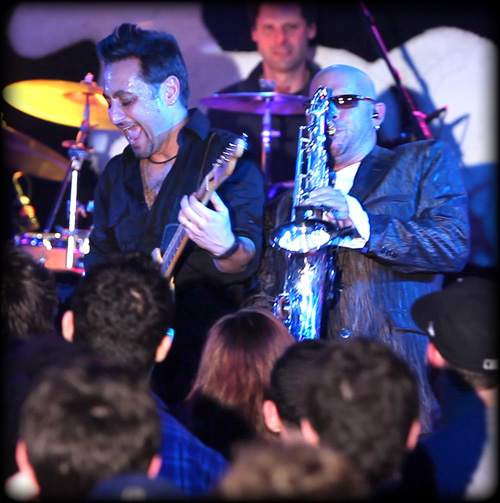 "If you're a big Bruce fan, you've probably seen tribute bands...
and the BEST of them all is TRAMPS LIKE US"
- E Street Radio / SIRIUS XM
Tramps Like Us brings more than 2 decades of road-tested musicianship that have won this band the hard-earned distinction of the planet's most revered Bruce Springsteen Tribute band. Rockers and ballads delivered with the raw intensity and swagger reminiscent of the Boss himself.
With a repertoire of more than 100 songs, Tramps Like Us has been dedicated to enjoying and sharing Bruce's music in a live setting. Unlike other "tribute" bands who attempt to impersonate or emulate their source in every respect, from looks to clothing to gestures, Tramps Like Us concentrates on the music itself. The group captures the Springsteen sound, and the true spirit and energy of the songs, as well as to delivering them with the passion and conviction of the Boss.
In keeping with the tradition of a typical Springsteen concert, Tramps prides itself on long and intense concerts, often playing 3.5 to 4 hour shows and at times without a break. Tramps has been able to cover up to 36 songs on any given night
"For almost 3 and a half hours, like a Springsteen concert from years ago, some of the Boss's best was delivered with raw energy and exceptional talent - The 3rd song of the evening was a version of Radio Nowhere that was so good if you closed your eyes you would have thought Bruce himself was in Phoenixville."
- Phoenixville News MORE ON TRAMPS LIKE US HERE
---
The Light In Darkness
By Lawrence Kirsch.
photo courtesy: thelightinDarkness.com
Bruce Springsteen's Darkness on the Edge of Town broke new ground for The Boss in 1978. A counterpoint to the operatic elegance of Born to Run, the album was an angry, raw record that burst forth after a three-year hiatus.
Because of its darker tones, some might call Darkness a difficult album, but despite this, it's a cherished gem for many.
Collecting stories and photos from hundreds of fans, The Light in Darkness celebrates this classic record, allowing readers to revisit the excitement of that moment when the needle found the grooves in that first cut and the thundering power of "Badlands" shook across the hi-fi for the very first time. Or the uninitiated, but soon-to-be-converted teenager, brought along by friends and finding salvation at one of the legendary three-plus hour concerts - shows that embodied all the manic fury of a revival meeting.
Over 200 Photos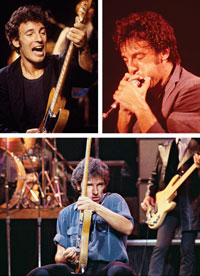 The Light in Darkness features stunning photography from the Darkness tour. With over 200 photos taken by dozens of photographers, many of them never before published, this is a book you'll come back to time and time again.
About the book:
Limited Collector's Edition.
This 208 page, large format, 9.25" x 12" full-color book is printed on Premium Gloss 200m paper stock and contains more than 200 photographs reproduced from the original negatives and slides
The Light In Darkness" book can be bought on-line HERE: http://www.thelightindarkness.com or special signed copies by Lawrence Kirsch of this limited edition can be purchased at the Stone Pony in Asbury Park on June 24, 2011 during the Tramps Like Us concert.