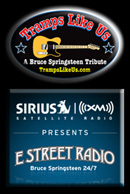 SIRIUS XM - E Street Radio presents a special 1.5 hour guest DJ show with Mark Salore. Mark is the frontman for the Bruce Springsteen Tribute Band Tramps Like Us.

Mark talks about his favorite songs to perform live and why, some personal stories,and about Tramps Like Us concert re-creation of Springsteen's infamous 4.5 hour new years eve concert from Nassau Coliseum 12/31/1980.
(MORE INFO ABOUT THE NEW YEARS EVE CONCERT RECREATION)
E STREET RADIO GUEST DJ - MARK SALORE - FRONTMAN OF TRAMPS LIKE US

"If you're a big Bruce fan, you've probably seen tribute bands...
and the BEST of them all is TRAMPS LIKE US"

- E Street Radio / SIRIUS XM