Tramps Like Us, who Bruce Springsteen's former producer and manager Mike Appel has called: "The GREATEST Bruce Springsteen Tribute Band In The LAND!" and E Street Radio calls "The BEST of all Springsteen tribute bands" is set to re-create what has already been labeled as another legendary and historic Bruce Springsteen concert in their continuing series of classic Springsteen concert re-creations...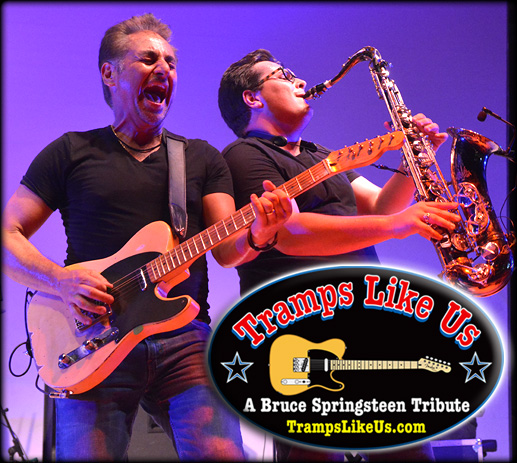 ---
It probably hasn't happened since 1974 or 1975. Bruce Springsteen opened his Tuesday night concert at MetLife Stadium with 11 songs from '73 or earlier, including tracks from his first two albums ("Greetings From Asbury Park, N.J." and "The Wild, the Innocent and the E Street Shuffle") and classic-rock covers "Summertime Blues" and "Pretty Flamingo." - North Jersey.com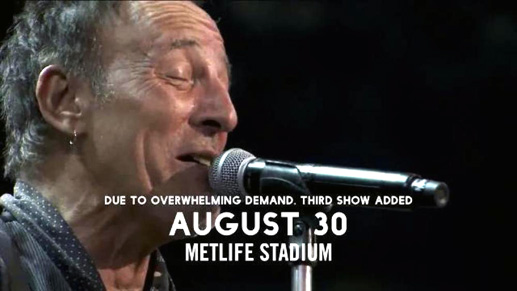 Stan Goldstein, a Springsteen historian, blogger and author who has attended well over 300 Springsteen concerts from as far back as 1976 writes... One of the best ever shows I've seen. Timed in at four hours and 25 seconds...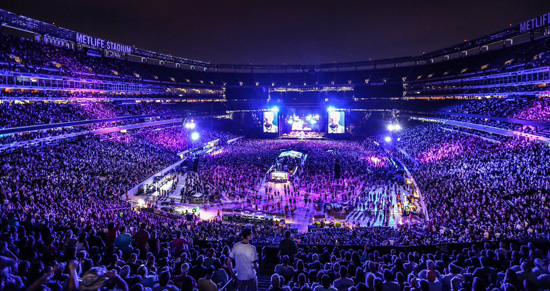 People always ask me what's the best show I've ever seen, this will definitely be in contention.
Thank you Bruce and the E Street Band for finding the Fountain of Youth and allowing me to drink from it tonight.
What a set list. You never knew what was coming next. We all were hoping he would break the four-hour mark, and he did, making this his longest show ever in the U.S. and second longest show ever.
A friend, who times shows precisely, was timing it and at the end we were both rooting for Bruce to break the four-hour mark. He did.
From the moment Bruce's guitar tech Kevin Buell said to us about 15 minutes before the show "Great set list!" and after hearing an incredible soundcheck, we had a feeling it was going to be a special night.
"Good evening New Jersey," Bruce said as he took the stage at 8:12 p.m. "Are you ready to gamble with the E Street Band? Tonight we're going to play a lot of things we didn't play the last two nights."
Read Stan's entire review here
---
AUGUST 30, METLIFE 3: THE SPIRIT OF '73
The third night in the Meadowlands was a night of epics, of grandeur, of the E Street Band occupying the cavernous expanse of MetLife Stadium with the full range of their talent. It was also a night of hits, of the big songs you remember singing on the radio, the ones everyone remembers the best. And it would be another one for the record books, with Bruce breaking his own U.S. record yet again, with a show that clocked in at 4:01. Backstreets.com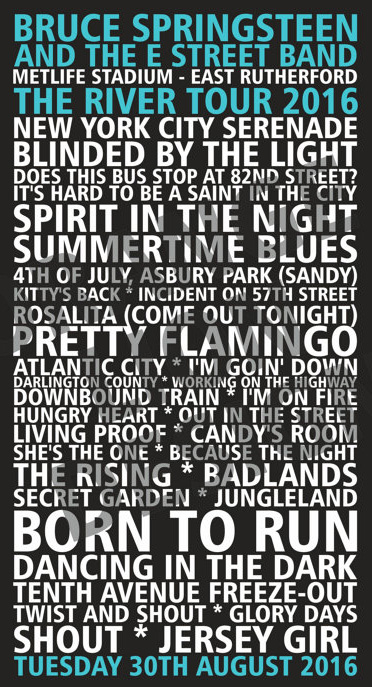 Springsteen and the E Street Band's third and final show on "The River" tour at MetLife Stadium Tuesday night came in at 4 hours, 1 minute, just one minute over the record he set during Thursday night's show in the Meadowlands. Springsteen did all three shows without an intermission or extended break, although the 66-year-old did take a quick break for a cold drink offered up by an audience member on Tuesday night, according to Amabile. Springsteen aficionado Tom Cunningham, host of the weekly Bruce Brunch program on 105.7 The Hawk said the concert was "a show that people will be talking about for a long time."

Jersey Girl and Guy forever! Duo get engaged, get on stage with Springsteen
"He really gave his all to New Jersey, but after all, he did say we challenged the E Street Band, and boy did they meet that challenge," said Amabile, who was at all three concerts and said the third show was different. "I have never been to a Springsteen show like this. For nearly two hours he played selections primarily from the first two albums. You never knew which direction he was going to take, and that is what made the whole night so exciting."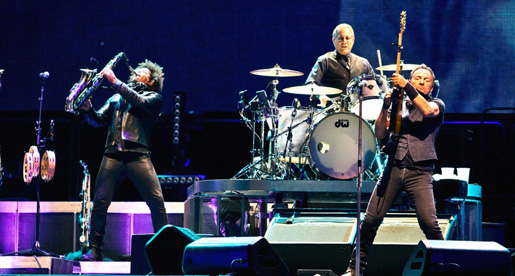 According to Amabile, the first 12 songs were all from the '70s, including a guest appearance by Rickie Lee Jones for "Spirit in the Night." He then broke out five songs in a row from the 1984 album "Born in the USA." He then hit some songs from the tour's namesake album.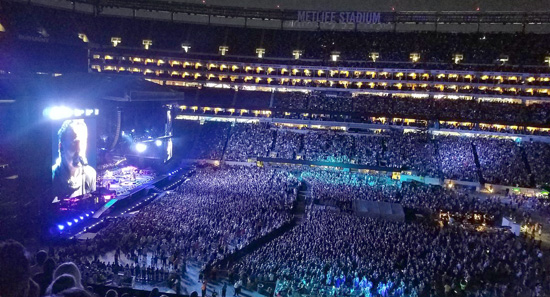 "It's nearly impossible to think that every song for the first hour and a half of the show was written prior to 1974. An hour and a half is an ENTIRE show for some acts, these folks were just getting warmed up," Cunningham said. "The first 11 songs contained all of side two of "The Wild, The Innocent and The E Street Shuffle" (including the always sought after "Incident On 57th Street/Rosalita (Come Out Tonight") pairing. It also featured four in a row from "Greetings From Asbury Park, NJ." Cunningham said the concert also included a "terrific version of the rare "Secret Garden" and off the hinges covers like "Summertime Blues" and "Pretty Flamingo."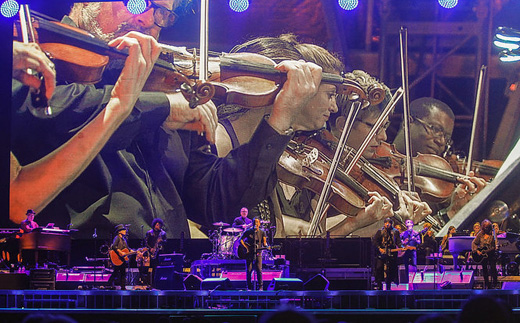 ---
About Tramps Like Us: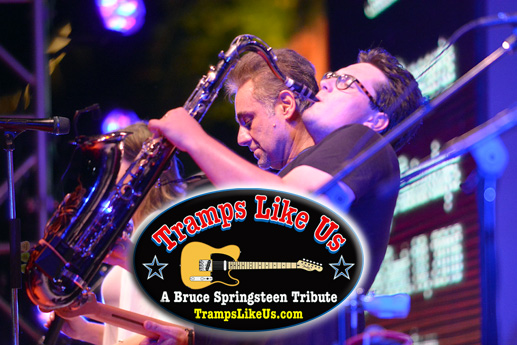 "If you're a big Bruce fan, you've probably seen tribute bands... and the BEST of them all is TRAMPS LIKE US"
- E Street Radio / SIRIUS XM
Tramps Like Us brings more than 25 years of road-tested musicianship that have won this band the hard-earned distinction of the planet's most revered Bruce Springsteen Tribute band. Given high praise by dozens of publications, radio stations, music industry personal, and the ONLY tribute band to be endorsed by members of "The Springsteen Camp" such as former producer and manager Mike Appel and the official Springsteen Radio Station: E Street Radio/Sirius XM.
Listen & read reviews here
Formed in 1990, Tramps Like Us has performed over 2000 concerts and have rocked over 1 million fans! Rockers and ballads delivered with the raw intensity and swagger reminiscent of the Boss himself, Tramps features a line up of seasoned and professional musicians with a repertoire of over 140 songs.
Tramps Like Us has the honor of being chosen by The NFL to perform at Superbowl XLVIII's Media Day at The Prudential Center & The Official NFL Superbowl Tailgate Party at MetLife Stadium.
The group captures the classic Springsteen sound, and remains true to the spirit and energy of the music, while delivering them with the passion and conviction of the Boss. Unlike other "tribute" bands who attempt to impersonate or emulate their source in every respect, from looks to clothing to gestures, Tramps Like Us concentrates on the music itself. Find out for yourself why E Street Radio says "If you're a big Bruce fan, you've probably seen tribute bands... and the BEST of them all is TRAMPS LIKE US" - E Street Radio / Sirius XM.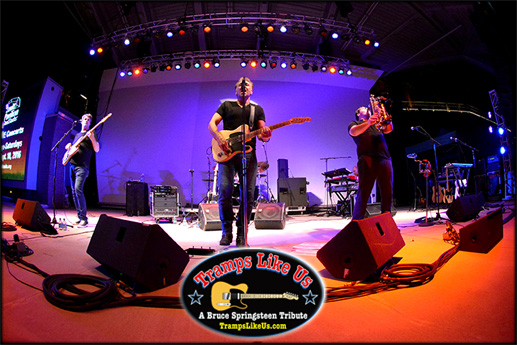 In a worldwide hunt to find the best tribute bands on the planet, the national publication "Music & Musicians" has selected Tramps Like Us, of all other Springsteen tribute bands as the #1 Springsteen Tribute Band In World...
SEE THE ENTIRE ARTICLE HERE