Tramps Like Us, who Bruce Springsteen's former producer and manager Mike Appel has called: "The GREATEST Bruce Springsteen Tribute Band In The LAND!" is set to re-create Bruce Springsteen's single longest concert of his career that was over 4 hours long and one of his most famous shows, that now lives in Springsteen folklore...
The New Year's Eve 1980-81 concert from Nassau Veterans Memorial Coliseum in Uniondale NY, from The River Tour.
See actual videos from that concert below.
---
The River Tour
Copy below taken from Wikipedia

Springsteen's performances on this tour were similar in nature to tours before, but extended in length. Thirty-song sets were often seen and shows ran up to four hours; it was during this tour that Springsteen's reputation for marathon performances really took hold.
The emotional tempor of the concerts was assessed differently depending upon the goer, with some having a party and others reporting that after a string of depressing songs they felt like slitting their wrists. Certainly The River had material to illustrate both viewpoints — on it Springsteen had acknowledged that "life had paradoxes, a lot of them, and you've got to live with them" — and the tour followed in kind. A key difference now was that where before Springsteen had relied upon old 1960s R&B and pop numbers for his concerts' uptempo, lighter moments, he now had written them himself: "Out in the Street" and "I'm a Rocker" and "You Can Look (But You Better Not Touch)" and other River numbers would serve this role in this tour and in tours for years to come.
A couple of Springsteen concert traditions began during the tour. Near the end of the frat-rocker "Sherry Darling", Springsteen pulled a young female out of the front rows and danced with her on stage; this practice would become famous when he did it in the subsequent Born in the U.S.A. Tour during "Dancing in the Dark". And when playing his new (and first) Top 10 hit "Hungry Heart", Springsteen let the audience sing the first verse and chorus, a ritual that would be solidified on subsequent tours as well.
The most famous of the shows on the tour is probably the New Years Eve 1980 one at Nassau Coliseum on Long Island, New York. With a set list 38 songs strong, it is one of the longest Springsteen shows of all time and also often regarded as one of the best.
---
About Tramps Like Us: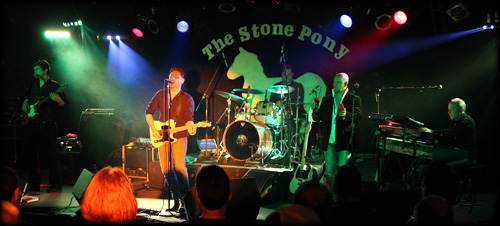 "If you're a big Bruce fan, you've probably seen tribute bands...
and the BEST of them all is TRAMPS LIKE US"
- E Street Radio / SIRIUS XM
Tramps Like Us brings more than 2 decades of road-tested musicianship that have won this band the hard-earned distinction of the planet's most revered Bruce Springsteen Tribute band. Rockers and ballads delivered with the raw intensity and swagger reminiscent of the Boss himself.
With a repertoire of more than 100 songs, Tramps Like Us has been dedicated to enjoying and sharing Bruce's music in a live setting. Unlike other "tribute" bands who attempt to impersonate or emulate their source in every respect, from looks to clothing to gestures, Tramps Like Us concentrates on the music itself. The group captures the Springsteen sound, and the true spirit and energy of the songs, as well as to delivering them with the passion and conviction of the Boss.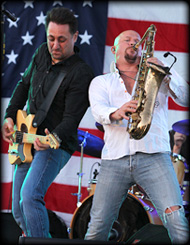 In keeping with the tradition of a typical Springsteen concert, Tramps prides itself on long and intense concerts, often playing 3.5 to 4 hour shows and at times without a break. Tramps has been able to cover up to 36 songs on any given night
"For almost 3 and a half hours, like a Springsteen concert from years ago, some of the Boss's best was delivered with raw energy and exceptional talent - The 3rd song of the evening was a version of Radio Nowhere that was so good if you closed your eyes you would have thought Bruce himself was in Phoenixville."
- Phoenixville News
MORE ON TRAMPS LIKE US HERE
---
ACTUAL VIDEOS FROM
NEW YEAR'S EVE - December 31, 1980

Sherry Darlin' - 12/31/1980


Midnight Hour - 12/31/1980

Hungry Heart - 12/31/1980

Santa Claus Is Coming Town - 12/31/1980

Cadillac Ranch- 12/31/1980