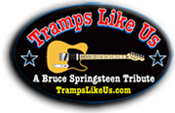 Tramps Like Us, who Bruce Springsteen's former producer and manager Mike Appel has called: "The GREATEST Bruce Springsteen Tribute Band In The LAND!" is set to re-create yet another legendary and historic Bruce Springsteen concert in their continuing series of classic Springsteen concert re-creations...
If you missed what is now considered a classic legendary Springsteen concert from years past and wondered what it would be like to have been there in person, well you are in luck...
Tramps Like Us, is the FIRST and ONLY band ever to re-create Springsteen concerts in their entirety, receiving high praise from fans and media outlets alike, as well as selling out venues across the tri-state area in the process. Currently with 6 historic concerts in their repertoire and more on the way, take a trip to the past with Tramps Like Us.
---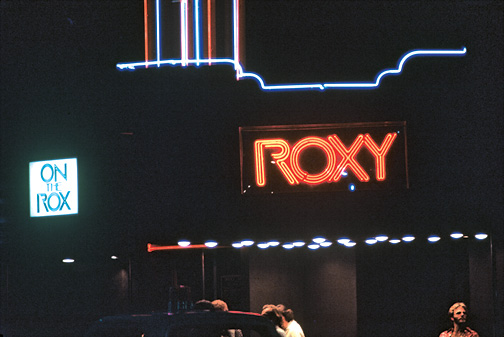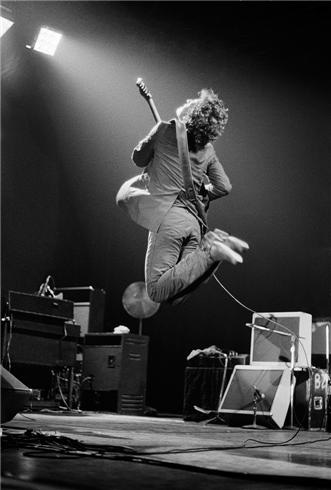 July 7, 1978
As the Roxy recording testifies, the nostalgia is not entirely without merit. Springsteen had used the years he was caught up in his legal difficulties with Mike Appel to hone his skills. The band sounded tighter than they ever had and played long exhausting shows for both the band and the audience. The twenty minute break was nowhere near a luxury for all involved. What gives the Roxy an extra edge is the fact that its a small club, making it a more intimate recording. The Roxy held 500 patrons. The tickets for the show had gone, much to Springsteen's dismay, to mostly industry figures, leaving only 250 seats for the fans according to the liner notes Ev2 provides. That small intimate feeling which is captured here on tape, adds to the feeling of the band bringing the house down, busting out. The presence of the industry figures does nothing to damper the spirits, this is a hard rocking show. Amongst fans it is rightfully seen as a contender for best show ever. Yet I can't help but wonder if the cards would've been dealt a little different if key shows from the two following tours would have been available as FM broadcasts as well. Springsteen continued to evolve as an artists and some of his material had yet to find their penultimate performance. "Badlands" and "Born To Run" for example come out somewhat sloppy, raw energy over tightness. "Point Blank" from this period has always sounded a bit overwrought to me, I prefer the performances of recent years.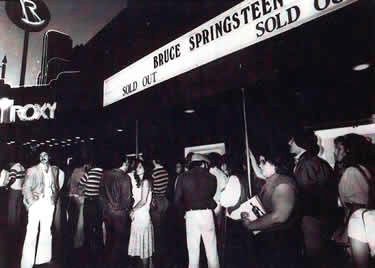 It goes without saying though that songs like "Prove It All Night", "Adam Raised A Cain", "Backstreet" or Growin'Up" arguably found their definitive performances during this tour. The solos, the naked anger, the interludes, the stories, that's Magic Springsteen will never recapture again. Nor will he play those R&R covers with quite the same enthusiasm and passion as he did during this tour. The show would eventually be the basis for a large portion of the live boxed set that hit the market in '86. In their "wisdom" Springsteen and Landau decided to edit many of those performances. Though the boxed set gave a nice overview of Springsteen's career as a live performer, the release is still cause for frustration amongst fans up until this day. 30 years down the road and we still need to turn to the bootleggers for a true sense of what a Springsteen shows truly is all about. We can only hope wisdom comes with the years and Springsteen will set the record straight with this years 30th anniversary of the "Darkness On The Edge Of Town" album. Till that time comes, this Roxy show is an absolute essential.
---
About Tramps Like Us: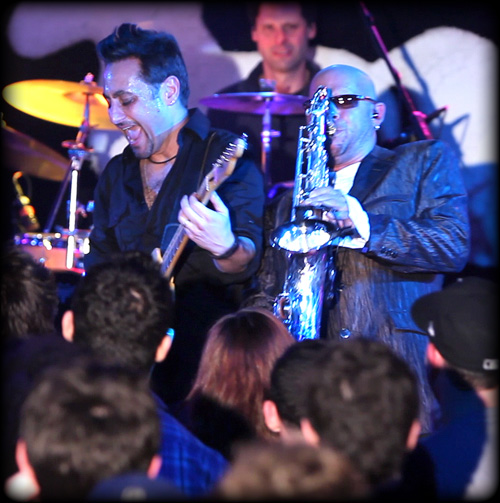 "If you're a big Bruce fan, you've probably seen tribute bands...
and the BEST of them all is TRAMPS LIKE US"
- E Street Radio / SIRIUS XM
Tramps Like Us brings more than 2 decades of road-tested musicianship that have won this band the hard-earned distinction of the planet's most revered Bruce Springsteen Tribute band. Rockers and ballads delivered with the raw intensity and swagger reminiscent of the Boss himself.
With a repertoire of more than 100 songs, Tramps Like Us has been dedicated to enjoying and sharing Bruce's music in a live setting. Unlike other "tribute" bands who attempt to impersonate or emulate their source in every respect, from looks to clothing to gestures, Tramps Like Us concentrates on the music itself. The group captures the Springsteen sound, and the true spirit and energy of the songs, as well as to delivering them with the passion and conviction of the Boss.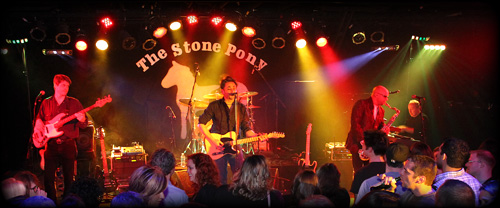 In keeping with the tradition of a typical Springsteen concert, Tramps prides itself on long and intense concerts, often playing 3.5 to 4 hour shows and at times without a break. Tramps has been able to cover up to 36 songs on any given night
"For almost 3 and a half hours, like a Springsteen concert from years ago, some of the Boss's best was delivered with raw energy and exceptional talent - The 3rd song of the evening was a version of Radio Nowhere that was so good if you closed your eyes you would have thought Bruce himself was in Phoenixville."
- Phoenixville News MORE ON TRAMPS LIKE US HERE
---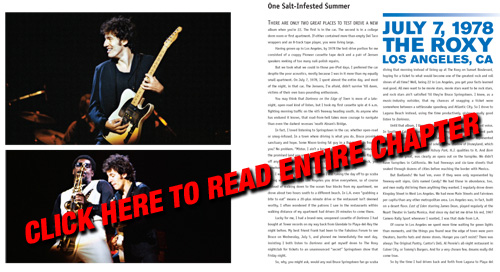 Excerpt below taken from the book "The Light In Darkness"
The night was pretty typical of early July in Los Angeles – not hot but hot enough to know it was indeed summer, and a bit on the "muggy" side, since the day had been a bit hazy and peaked only in the low 80s. It typically didn't get super hot in L.A. until August and September; but by July, many car tops were down and on this particular Friday the abandoned make-shift outdoor fireworks stands were still standing, only now devoid of any celebratory flammables.
The show began simply enough and I cranked the Jensens up to maximum distortion. "Ladies and gentlemen," the announcer said, "please welcome Bruce Springsteen and the E Street Band." My neck began to tingle and I don't think it stopped for several days.
It goes without saying that the Roxy show turned into one of the great rock and roll performances of all time. I had been to The Roxy many times and so I pictured the cramped quarters, the smoke rising, the veteran waitresses desperately trying to enforce the two-drink minimum. I hope they gave up, put down their trays and joined in. That was a show worth getting fired for.
During the introduction to "Rosalita," Bruce challenged the radio audience driving in their cars to "crank it up," so I did. Those poor speakers were living on life support by now, but it didn't matter. Several times I had to pull over and applaud.
Eventually I gave up on my efforts to keep moving and parked in the far reaches of some supermarket lot. I sat and listened. I wanted to see the face of the girl that yells "you got it" during "Growing Up" when Bruce suggests he wanted "everything." You could feel the excitement in that small club come right through the speakers and into the car. I just closed my eyes and imagined I had really, really good seats.
When I look back at the defining moments in my life, that night is certainly one of the best. I had been to plenty of rock shows and yet the energy, or dare I say jealousy and envy I felt were unmatched. Listening so much to that performance, I wore out the two Maxell tapes my roommate recorded. It certainly hooked me on Springsteen big time and started me on my journey to leave Los Angeles.
For old-times sake I took Darkness on a test drive the other evening, a windy but stunningly beautiful one in Petaluma where I live north of San Francisco. This time the drive consisted of an iPod walk around the dog park and nature trail near my home. It's a bit different listening to an album like Darkness among fluttering oak trees and waving spring grasses.
But of course it "drove" just as well 30 years later. I'm about to begin a new and unpleasantly disruptive journey in my life, one I didn't plan for. So I'm glad I took that walk the other night. Listening to Darkness on the Edge of Town once again gave me hope, the sort of hope that tempers sadness and depression without denying how brutal those things can be.
Somewhere in one of the many junk-yards that dot Southern California, a pair of long-ago crushed Jensen speakers are trembling just a little in anticipation of the next journey. Thanks Bruce!
— Gene Gable, ggable@sonic.net
---
The Light In Darkness
By Lawrence Kirsch.
photo courtesy: thelightinDarkness.com
Special signed copies by Lawrence Kirsch of this limited edition book can be purchased at this Tramps Like Us concert.
Bruce Springsteen's Darkness on the Edge of Town broke new ground for The Boss in 1978. A counterpoint to the operatic elegance of Born to Run, the album was an angry, raw record that burst forth after a three-year hiatus.
Because of its darker tones, some might call Darkness a difficult album, but despite this, it's a cherished gem for many.
Collecting stories and photos from hundreds of fans, The Light in Darkness celebrates this classic record, allowing readers to revisit the excitement of that moment when the needle found the grooves in that first cut and the thundering power of "Badlands" shook across the hi-fi for the very first time. Or the uninitiated, but soon-to-be-converted teenager, brought along by friends and finding salvation at one of the legendary three-plus hour concerts - shows that embodied all the manic fury of a revival meeting.
Over 200 Photos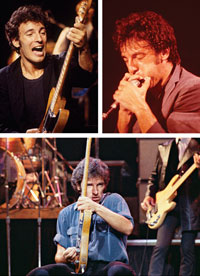 The Light in Darkness features stunning photography from the Darkness tour. With over 200 photos taken by dozens of photographers, many of them never before published, this is a book you'll come back to time and time again.
About the book:
Limited Collector's Edition.
This 208 page, large format, 9.25" x 12" full-color book is printed on Premium Gloss 200m paper stock and contains more than 200 photographs reproduced from the original negatives and slides
The Light In Darkness" book can be bought on-line HERE: http://www.thelightindarkness.com or a limited amount of special signed copies by Lawrence Kirsch of this limited edition can be purchased at this concert re-creation.