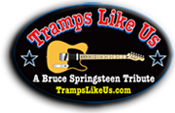 Tramps Like Us, who Bruce Springsteen's former producer and manager Mike Appel has called: "The GREATEST Bruce Springsteen Tribute Band In The LAND!" is set to re-create yet another legendary and historic Bruce Springsteen concert in their continuing series of classic Springsteen concert re-creations...
If you missed what is now considered a classic legendary Springsteen concert from years past and wondered what it would be like to have been there in person, well you are in luck...
Tramps Like Us, is the FIRST and ONLY band ever to re-create Springsteen concerts in their entirety, receiving high praise from fans and media outlets alike, as well as selling out venues across the east coast in the process. Currently with 7 historic concerts in their repertoire and more on the way, come take a trip to the past with Tramps Like Us.
---
photo courtesy: thelightinDarkness.com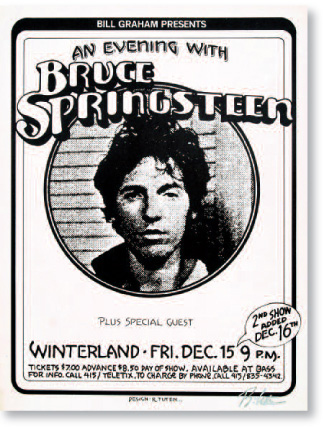 When you boil it all down, Bruce Springsteen's music is about grit, passion and determination. Nothing in the Springsteen canon exemplifies this more than the legendary Darkness On The Edge of Town tour of 1978. Delayed by a protracted legal battle, the Darkness On The Edge of Town album was much darker than his previous record, Born To Run. Gone was a bit of the optimism, and in its place was a bit of cynicsm. The characters were no longer "pulling out of here to win", they were stuck in the darkness on the edge of town, in dead-end jobs, crying themselves to sleep at night. Their dreams may have passed them by. When Springsteen and crew brought these songs on the road, they came to life with a burning intensity. Shows on the Darkness tour were no longer just a party, they were a much-needed catharsis both for the band and the audience. The guitars were dirtier, the screams were louder, the emotion was palpable.
By December 15th of 1978 when the band took the stage in San Francisco at the famed Winterland Ballroom (site of The Last Waltz), Springsteen's voice was hoarse and ragged but the band was tighter than ever. This was the setting for what is probably the most famous show of Springsteen's career - broadcast on FM radio to much of the west coast, and now available to all in pristine sound quality bootleggs.
This is a document of one of the greatest live rock n' roll bands of all time at the height of their power. At just over 3 hours, Springsteen would go on to play even longer shows on subsequent tours - but for me, even though I wasn't there to witness it, nothing matches the energy and intensity of the legendary string of shows in late-1978. "This is one of the most important shows Springsteen ever performed, and one of legendary status among fans."

This Winterland show captures Springsteen in his prime…The performance is simply monumental and must be considered one of Springsteen's best performances ever.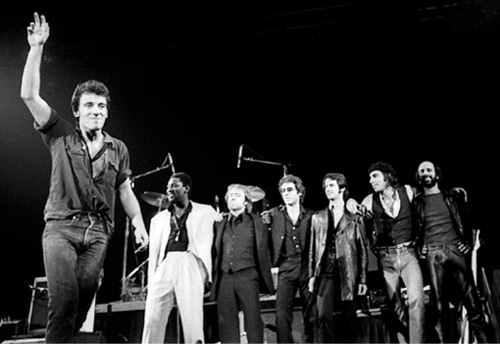 photo courtesy: thelightinDarkness.com
---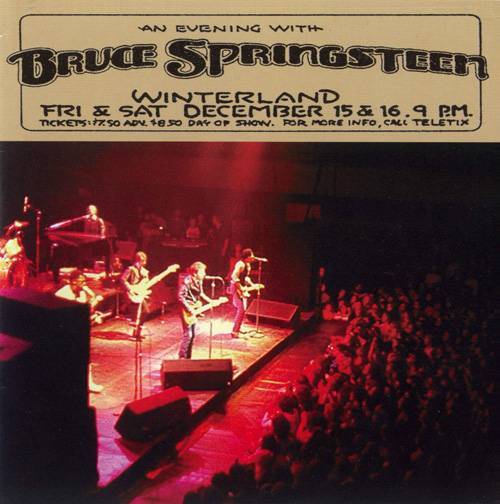 ---
About Tramps Like Us: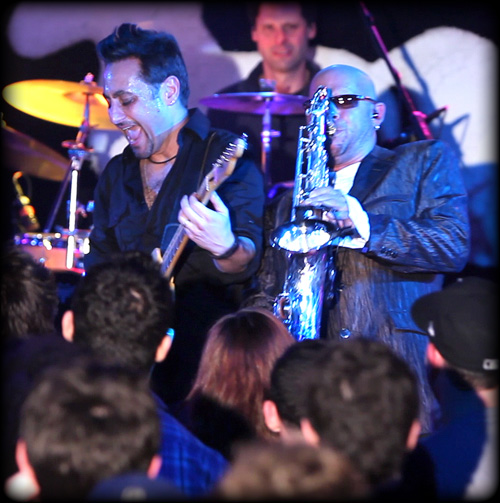 "If you're a big Bruce fan, you've probably seen tribute bands...
and the BEST of them all is TRAMPS LIKE US"
- E Street Radio / SIRIUS XM
Tramps Like Us brings more than 2 decades of road-tested musicianship that have won this band the hard-earned distinction of the planet's most revered Bruce Springsteen Tribute band. Rockers and ballads delivered with the raw intensity and swagger reminiscent of the Boss himself.
With a repertoire of more than 100 songs, Tramps Like Us has been dedicated to enjoying and sharing Bruce's music in a live setting. Unlike other "tribute" bands who attempt to impersonate or emulate their source in every respect, from looks to clothing to gestures, Tramps Like Us concentrates on the music itself. The group captures the Springsteen sound, and the true spirit and energy of the songs, as well as to delivering them with the passion and conviction of the Boss.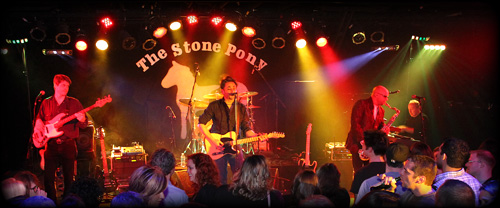 In keeping with the tradition of a typical Springsteen concert, Tramps prides itself on long and intense concerts, often playing 3.5 to 4 hour shows and at times without a break. Tramps has been able to cover up to 38 songs on any given night
"For almost 3 and a half hours, like a Springsteen concert from years ago, some of the Boss's best was delivered with raw energy and exceptional talent - The 3rd song of the evening was a version of Radio Nowhere that was so good if you closed your eyes you would have thought Bruce himself was in Phoenixville."
- Phoenixville News MORE ON TRAMPS LIKE US HERE
---
The Light In Darkness
By Lawrence Kirsch.
photo courtesy: thelightinDarkness.com
Special signed copies by Lawrence Kirsch of this limited edition book can be purchased at the venues and dates listed below.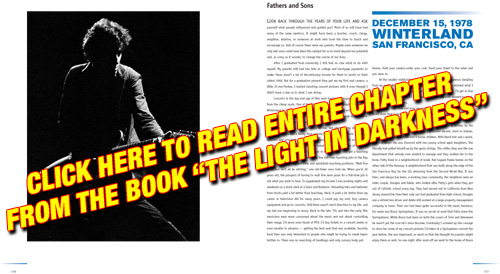 Bruce Springsteen's Darkness on the Edge of Town broke new ground for The Boss in 1978. A counterpoint to the operatic elegance of Born to Run, the album was an angry, raw record that burst forth after a three-year hiatus.
Because of its darker tones, some might call Darkness a difficult album, but despite this, it's a cherished gem for many.
Collecting stories and photos from hundreds of fans, The Light in Darkness celebrates this classic record, allowing readers to revisit the excitement of that moment when the needle found the grooves in that first cut and the thundering power of "Badlands" shook across the hi-fi for the very first time. Or the uninitiated, but soon-to-be-converted teenager, brought along by friends and finding salvation at one of the legendary three-plus hour concerts - shows that embodied all the manic fury of a revival meeting.
Over 200 Photos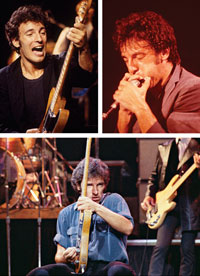 The Light in Darkness features stunning photography from the Darkness tour. With over 200 photos taken by dozens of photographers, many of them never before published, this is a book you'll come back to time and time again.
About the book:
Limited Collector's Edition.
This 208 page, large format, 9.25" x 12" full-color book is printed on Premium Gloss 200m paper stock and contains more than 200 photographs reproduced from the original negatives and slides
The Light In Darkness" book can be bought on-line HERE or special signed copies by Lawrence Kirsch of this limited edition can be purchased all of the Tramps Like Us show dates listed below.