CLICK HERE TO SIGN UP FOR
MONTHLY NEWSLETTER
---
TRAMPS LIKE US PERFORMS WITH REO SPEEDWAGON AT PROVIDENT BANK PARK - POMONA, NY
"What a thrill it was to have Bruce Springsteen perform here with us tonight! Well it mght not of looked exactly like Bruce, but it sure did sound exactly like him! Lets hear it for Tramps Like Us!
- Kevin Cronin - lead vocalist & guitarist for REO Speedwagon - 8/16/12 — at Provident Bank Park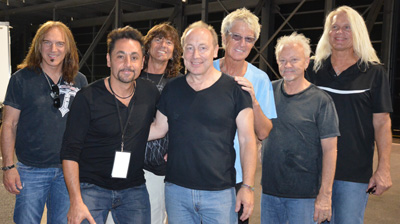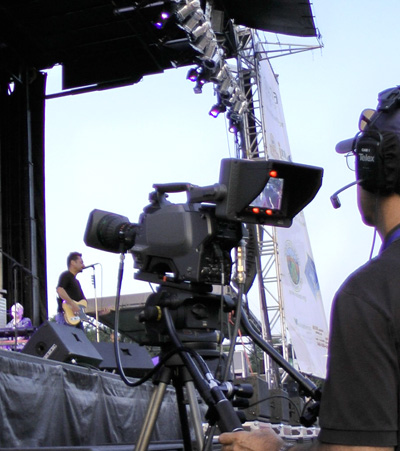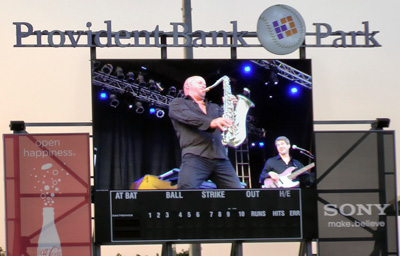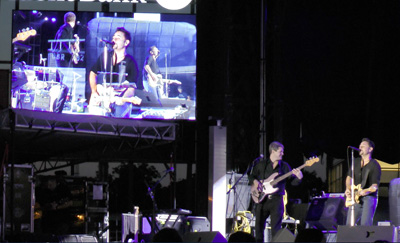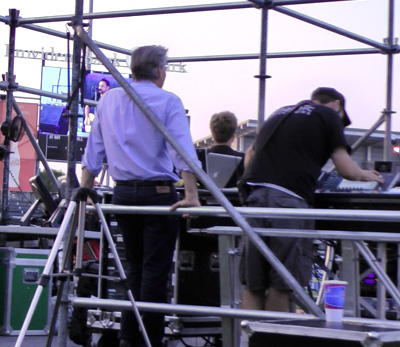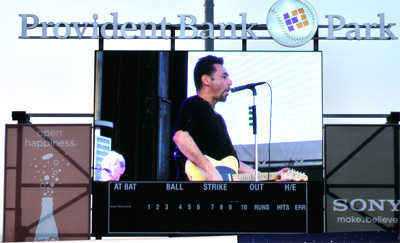 ---
---
TRAMPS LIKE US SELECTED AS THE GREATEST BRUCE SPRINGSTEEN TRIBUTE BAND IN THE WORLD...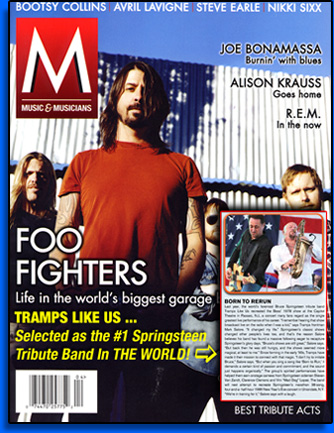 In a worldwide hunt to find the best tribute bands on the planet, the national publication "Music & Musicians" has selected Tramps Like Us, of all other Springsteen tribute bands as the #1 Springsteen Tribute Band In World...
"It's our pleasure to introduce you to the world's foremost tribute acts..."
CLICK HERE TO SEE AND
READ THE ENTIRE SPREAD!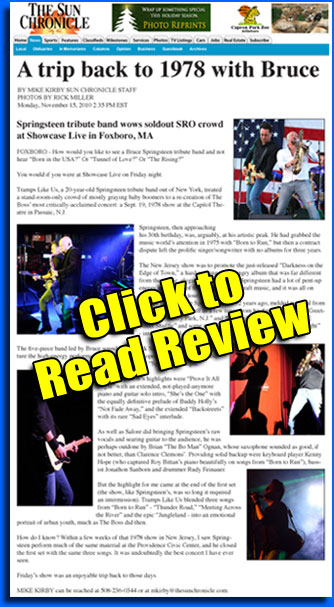 "Springsteen tribute band wows soldout SRO crowd at Showcase Live in Foxboro, MA"
FOXBORO, MA - How would you like to see a Bruce Springsteen tribute band and not hear "Born in the USA?" Or "Tunnel of Love?" Or "The Rising?" You would if you were at Showcase Live on Friday night. Tramps Like Us, a 20-year-old Springsteen tribute band out of New York, treated a stand-room-only crowd of mostly graying baby boomers to a re-creation of The Boss' most critically-acclaimed concert: a Sept. 19, 1978 show at the Capitol Theatre in Passaic, N.J."
- BY MIKE KIRBY - SUN CHRONICLE STAFF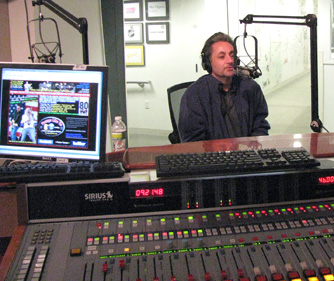 Tramps Like Us Frontman Mark Salore Guest DJ's on E Street Radio
SIRIUS XM RADIO - LISTEN HERE
SIRIUS XM - E Street Radio presents a special 1.5 hour guest DJ show with Mark Salore. Mark is the frontman for the Bruce Springsteen Tribute Band Tramps Like Us. Mark talks about his favorite songs to perform live and why, some personal stories, and about Tramps Like Us concert re-creation of Springsteen's infamous 4.5 hour new years eve concert from Nassau Coliseum 12/31/1980.


Tramps Like Us backstage as VIP guest with "The Big Man" Clarence Clemons of The E Street Band at BB Kings in NYC.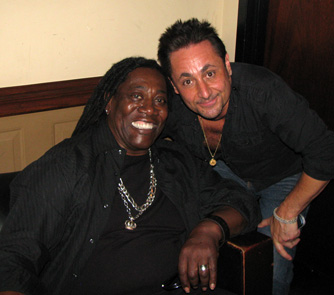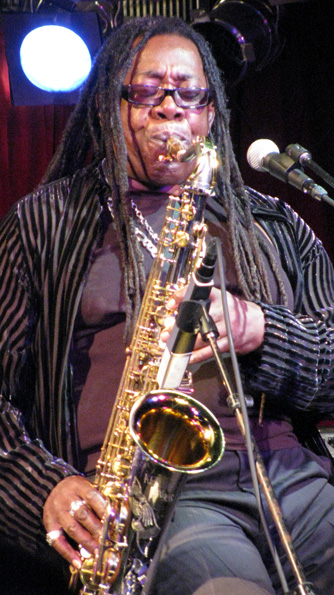 Tramps Like Us is the first and only band to ever re-create Springsteen concerts in their entirety with all songs and renditions of the songs performed as they were by Bruce Springsteen and The E Street Band on that selected night.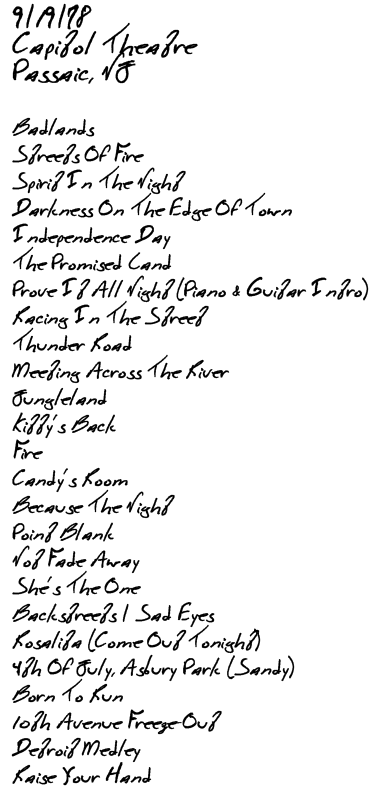 The 7 concert re-creations shows by Tramps Like Us:
All of these concert re-creations drew complete sell crowds at major venues such as the legendary NYC club in Times Square BB KIng, Showcase Live in Foxboro, MA, The Stone Pony in Asbury Park, NJ and The Canal Room in NYC and others.
These concert re-creation shows were received with high critical acclaim from news outlets and Springsteen related camps, including E Street Radio, former Springsteen manager & producer Mike Appel, Springsteen Historian Stan Goldstein, NJ.com, Music and Musicians Magazine and more.


TRAMPS LIKE US
FEATURED ON E STREET RADIO



A special 2.5 hour roundtable discussion on the 1978 tour, focusing on the historic concert from The Capitol Theatre on 9/19/78 and it's re-creation by Tramps Like Us.
SIRIUS XM RADIO- LISTEN HERE ON-LINE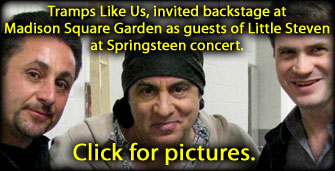 Former Springsteen manager and producer Mike Appel introduces Tramps Like Us at BB Kings on May 15, 2010 prior to the 35th anniversary concert re-creation of Bruce's Bottom Line show from 1975.
Mike spoke about the historic show from 1975 and took questions from the audience before introducing Tramps Like Us from the stage.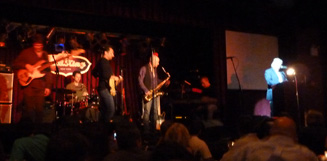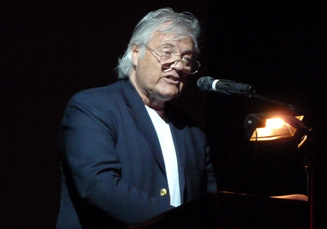 Tramps Like Us tee shirts & tank tops available at all
Tramps shows. "Tramp Stamp" tanks for Girls!

Book your show or event now! Call Mark at: 914-720-8855 or Click Here

HAVE TRAMPS PLAY AT YOUR SPECIAL EVENT

Turn any regular party or special event into a Rock n' Roll Extravaganza that will have your guests talking for years to come... Tramps Like Us is available to perform at all types of special events such as:
Corporate Events / Parties
Country Club Events / Parties
Weddings
Bar & Bat Mitzvah's
Birthday Parties
Anniversary Parties
Bars / Night Clubs
Concert Theaters
College Parties
High School and College Reunions
Outdoor Festivals / Township Concerts
Fundraisers
- CLICK HERE TO FIND OUT MORE -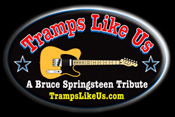 BREAKING NEWS...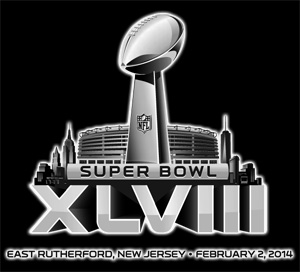 TRAMPS LIKE US SELECTED BY THE NFL AND PERFORMS AT HALFTIME OF SUPER BOWL MEDIA DAY AND AT THE OFFICAL TAILGATE PARTY FOR SUPER BOWL XLVIII AT MET LIFE STADIUM.
TRAMPS PERFORMS IN FRONT OF OVER 40,000 FANS AND ON LIVE TV AROUND THE WORLD!
CLICK HERE FOR VIDEO AND PICTURES FROM MEDIA DAY & THE SUPERBOWL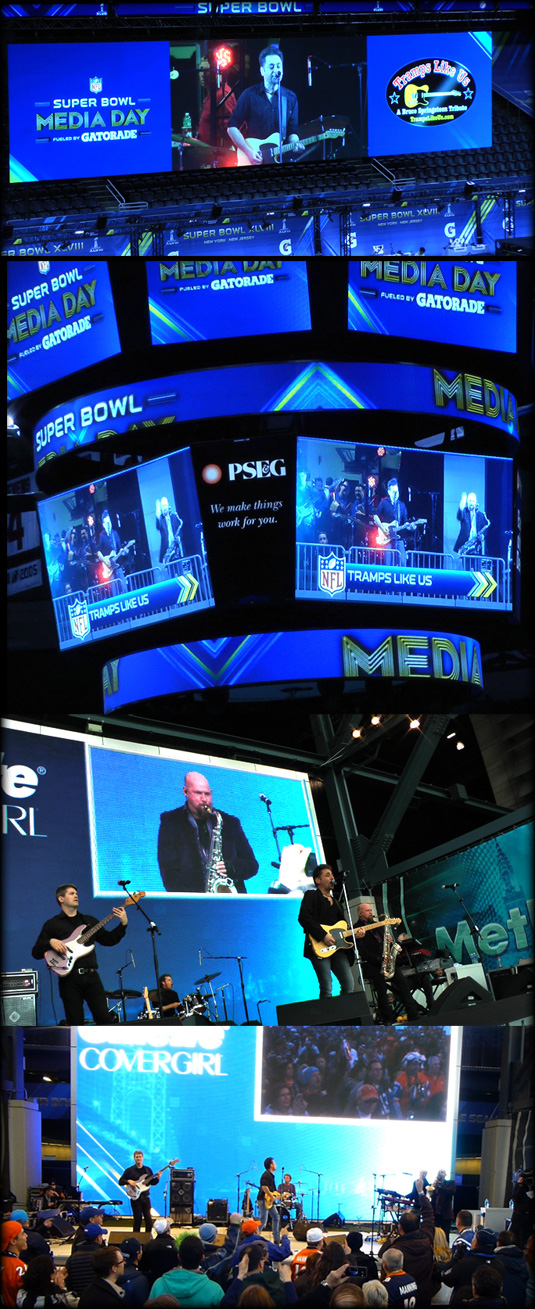 One would expect a Super Bowl in New Jersey to have Bruce Springsteen perform the halftime show. Well unfortunately this time around that is not the case, but it does seem the NFL has done their best to have a Springsteen theme at two of its biggest events outside of the actual game. Tramps Like Us, whom the NFL has tagged as "The planet's most revered Bruce Springsteen Tribute Band" in their press release, will be performing at the NFL's Super Bowl Media Day which takes place at The Prudential Center in Newark, NJ on Tuesday, January 28. During Media Day, fans will sit in the stands in the arena and watch thousands of media from around the world interview members of the participating Super Bowl teams on the floor. Tramps Like Us, will be the featured entertainment in between the 2 teams meeting the media. This event has already been sold out.
Then on Super Bowl Sunday, February 2, the NFL has set up a stage in Gameday Fan Plaza in front of Met Life Stadium which will feature Tramps Like Us performing live at the official Super Bowl tailgate party.


TRAMPS LIKE US APPEARS LIVE ON FOX'S MORNING SHOW GOOD DAY NY IN FRONT OF OVER 1 MILION VIEWERS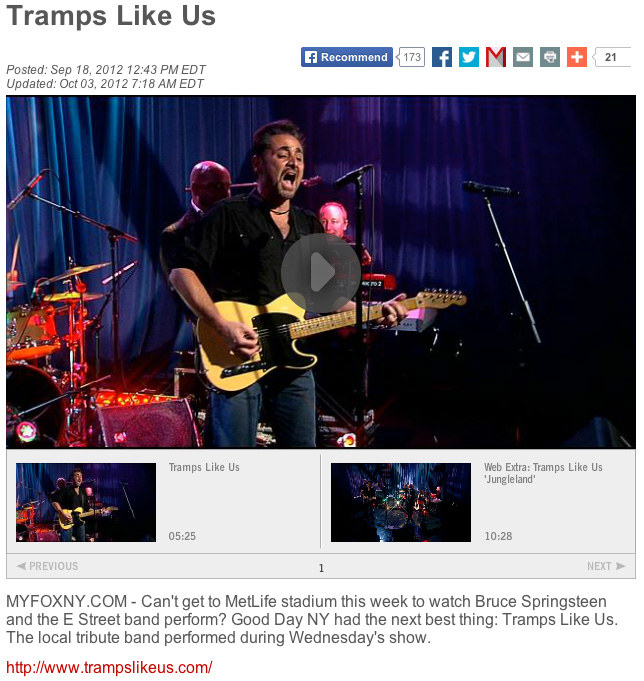 "If you can't get to see Bruce Springsteen at Met Life Stadium, well we have the next best thing right here with us...
TRAMPS LIKE US!"


Tramps Like Us sells out The Stone Pony in Asbury Park, NJ for the 3rd time in a row.
ANOTHER FIRST TIME EVENT PERFORMED BY THE #1 SPRINGSTEEN TRIBUTE BAND IN THE WORLD!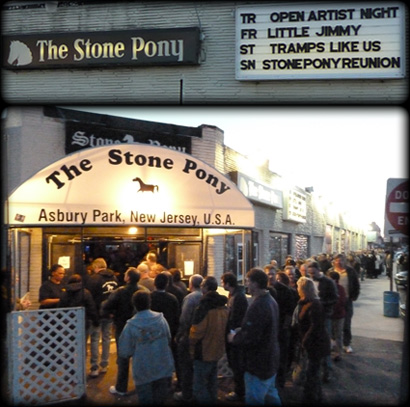 Along with having the distinction of being the ONLY band ever to re-create legendary and historic Springsteen concerts from the past, Tramps was the first band to ever perform Springsteen albums in their entirely. Back in 1989 Tramps had performed both Born to Run and Darkness On The Edge Of Town, and on several occasions afterwards.
Now, for the first time ever, Tramps Like Us will perform Bruce Springsteen's first 4 albums all in one night live on stage.
This special event will take place at the legendary Stone Pony in Asbury Park, NJ

SATURDAY NIGHT -MARCH 31 - 7:30
SORRY, THIS EVENT IS SOLD OUT
THE STONE PONY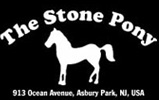 913 Ocean Avenue Asbury Park,
NJ 07712
(732) 502-0600

TICKETS AVAILABLE HERE
• Greetings From Asbury Park
• The Wild, The Innocent & The E Street Shuffle
• Born To Run
• Darkness On The Edge Of Town
CLICK EACH ALBUM
FOR SONG LIST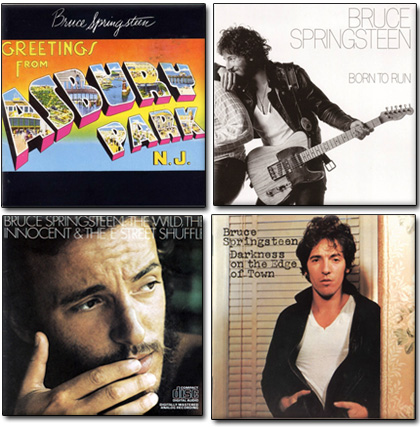 OVER 50,000 PEOPLE COME OUT TO SEE
TRAMPS LIKE US IN LESS THAN 1 MONTH!
Fan Submitted Videos Below
After excessively large turnouts in N. Hempstead Beach Park, NY (20,000+), City of White Plains, NY Fourth of July Celebration (15,000+) and Syracuse NY's Inner Harbor Wednesday's On The Water Concert Series (7,500+) along with various other concerts in the last month, Tramps has rocked more than 50,000 strong to the music of The Bos

s!
PICTURES BELOW.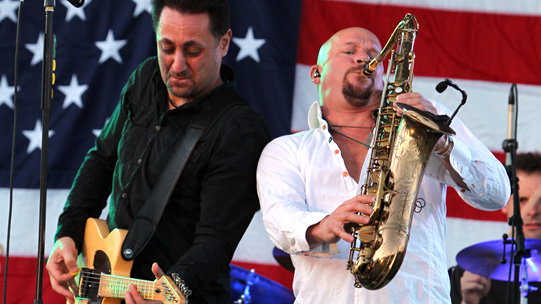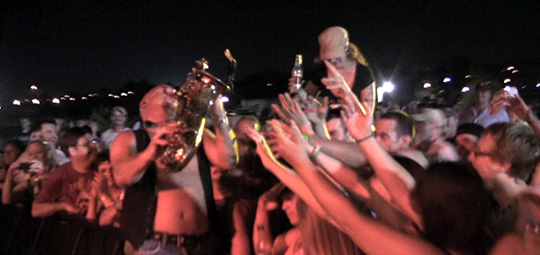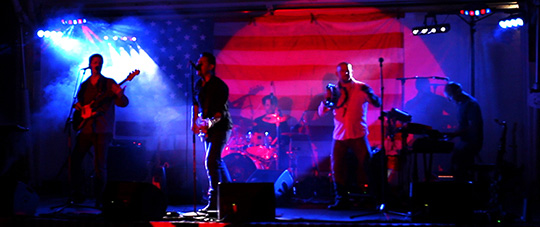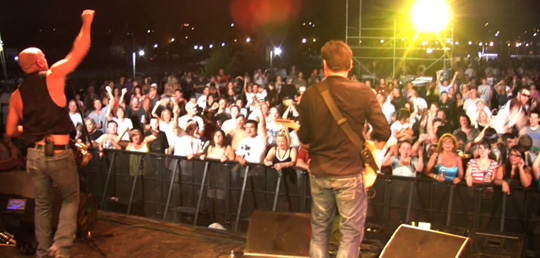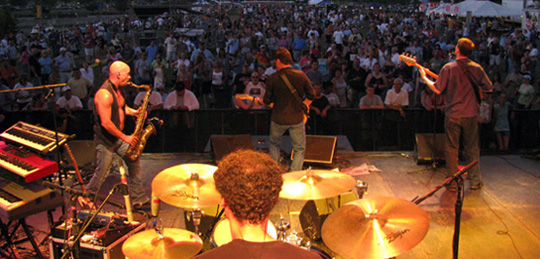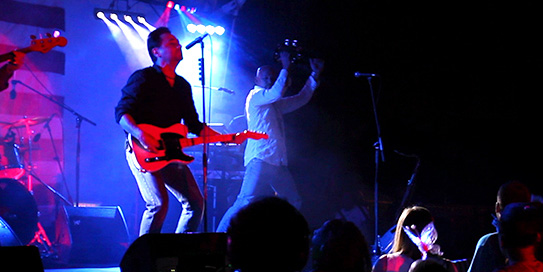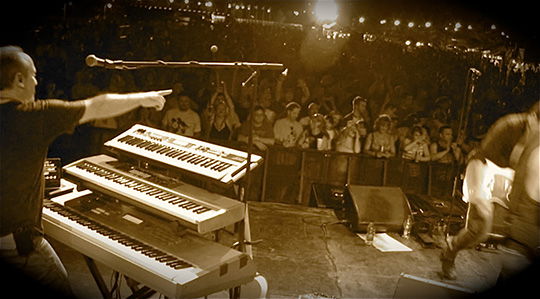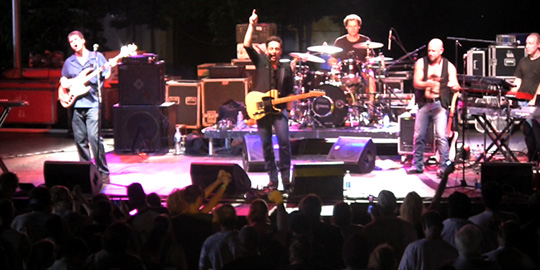 Bruce Springsteen
makes his way into the crowd at the end of "The Promised Land" and gives his harmonica to Tramps Like Us frontman Mark Salore's son Michael. Giants Stadium - July 28, 2008 Click Picture to Play Video.




TOTAL MAYHEM...
breaks out during Tramps Like Us concert at Colgate University in Hamilton, NY. Security detail abandons their crowd control posts at front of stage for safety reasons due to the onslaught of 1500+ crazed college Tramps pushing towards the stage.
Student submitted video. Poor sound quality. Intended For visual purposes only.